Dewater HP 4X4

Next Generation Filter Presses for Heavy Duty application
Dewater Filter Presses solution with new technologies and modern engineering which will define the future of filter press: lower residual moisture, high capacity with smaller footprint, continuous automatic work, high reliability at low investment & running costs.
Multiple reasons to choose Next Generation Filter Press

Dewater HP 4X4
Dewater HP 4×4 Next Generation Filter Presses is focussed on 4 pillars in order to satisfy all the industrial needs
Filtration Process Advantages
High Productivity in smaller footprint
Membrane, Chamber or Mixed Plate Pack
High Filtration Pressure 16– 25 Bar
Counter Current Cake Blowing/Cake Wash
High-Pressure Cake Squeezing
Double Feeding & discharging manifold
SMART automation with IIoT capability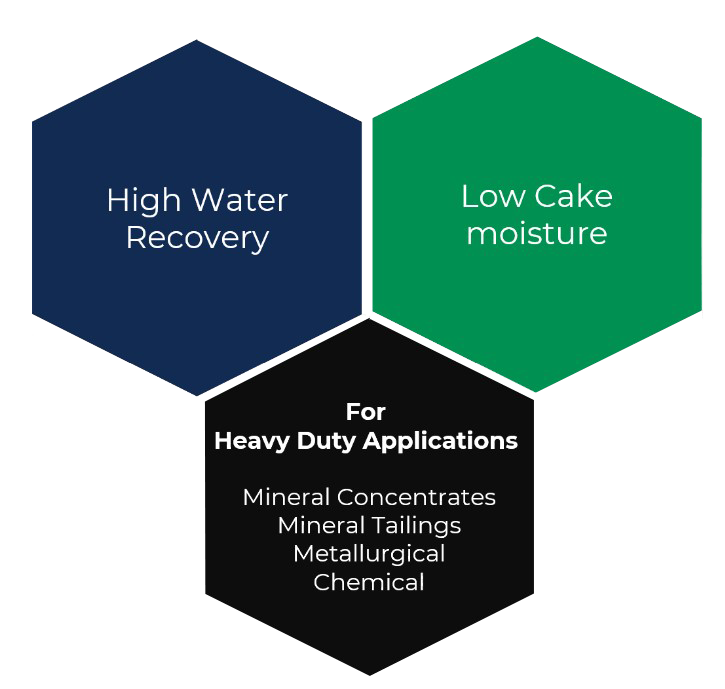 Features of Dewater HP 4x4 Filter Press Model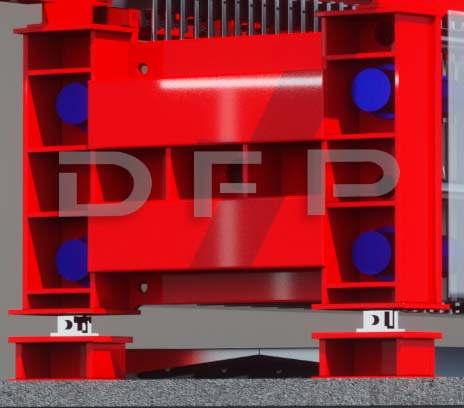 Robust structure & devices for heavy duty applications
The skeleton structure of Dewater HP Filter Press is smartly designed which ensures strong structures combining with n.4 powerful and fast cylinders.
The n.4 cylinder installed in the 4 corner works in traction that allows a perfect plate pack closing in all working condition, thanks to the high pressure closure.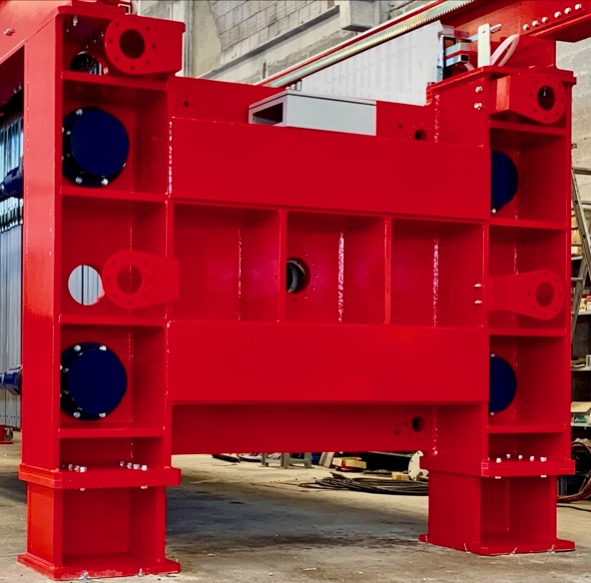 4X4 Traction Closing Pull to Close Mechanism
Dewater HP have the pull to close Filter Press closing mechanism which is been assisted by 4 strong hydraulic jacks. The 4X4 traction closing is the most reliable closing system for heavy duty application.
Hence its designed to perfection for rough and sometimes extreme environments found at mining sites & metallurgical plants.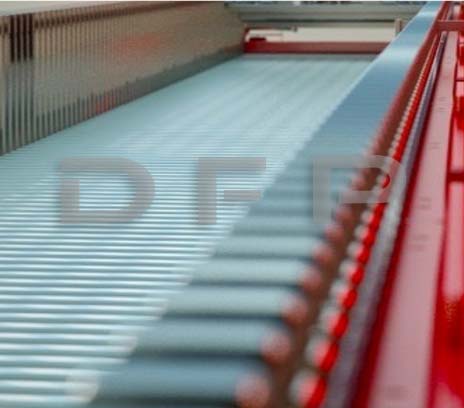 FAST Filter Press Operation for high productivity
The fast & simultaneous opening is achieved with hydraulic cylinders followed by the use of electrical gear motors. The filter press plates are connected via links to the mobile head of the Filter Press. This fast electrical plates pack opening and closing is the fastest in comparison to the rest.
The Fast filtration operation significantly increases the filter presses throughput production.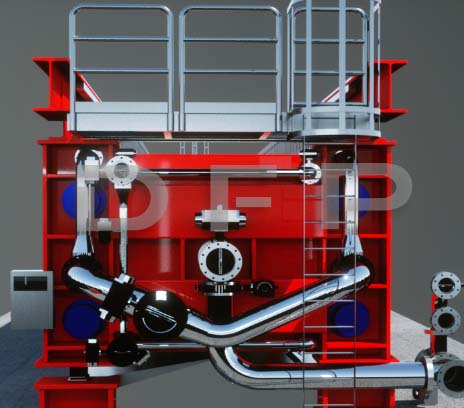 Flexible Filtration Technologies
The Dewater HP model of filter presses are flexible to be customised depending upon the requirement of the process & applications.
Applications which requires cake washing steps, cake drying or cake squeezing the filter presses can be customised with membrane plates in order to reach the best filtration performance.
Whereas for standard applications the filter presses is equipped with Chamber plate configurations.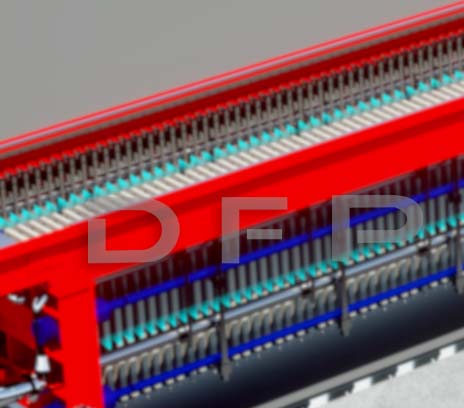 Double cloths washing
Dewater HP Filter Presses are equipped with double cloth washing systems. To ensure longer cloths life and constant filtration performance 
Fast Cloth Washing @ 5 Bar
In this operation, the filter press cloths are simultaneously washed after every cycle.
Deep Cloth Washing @ 50 Bar
The automatic deep cleaning system use an high pressure washing mechanism.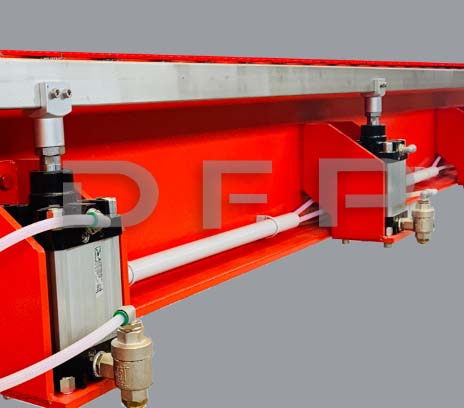 Auto Cake Release
The automatic plate & cloth shaking device by its unique & special movement of the filter elements ensures even the stickiest cake to be discharged automatically.
Programmed to occur after the opening of the complete plate pack, this operation efficiently removes cake fragments & any parts of sticky cake from the cloths. This system allows the filter press to run automatically without any operator assistance.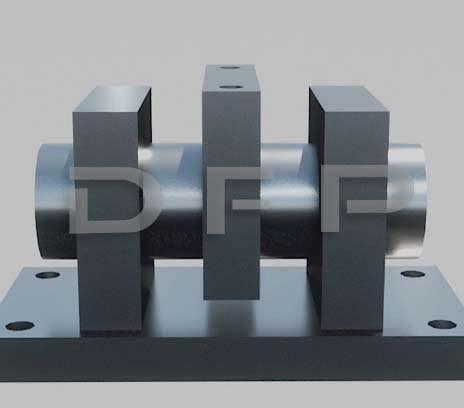 Load Cells
In the filter press the Load Cells are installed for fully automatic process control.
Thanks to these load cells it is possible:
to increase the filter press production
To optimise automatically the whole filtration process from the feeding phase, until the cake discharging, even if the feed slurry characteristics changes from cycle to cycle.
To have deeper control on the filter press operation.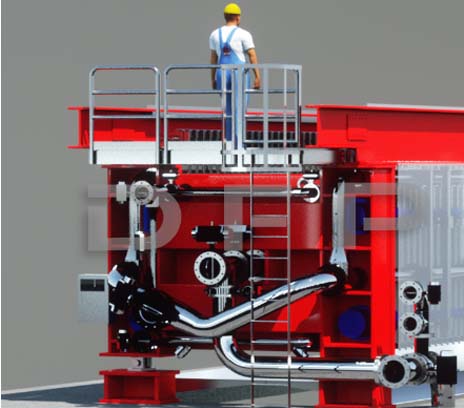 FAST & Easy Maintenance System
Dewater HP filter presses are equipped with a patented cloth changing mechanism that have the following advantages:
Fast cloth replacement;
Easy cloth replacement;
Safe cloth replacement;
Higher filter press

availability;

Lower maintenance cost;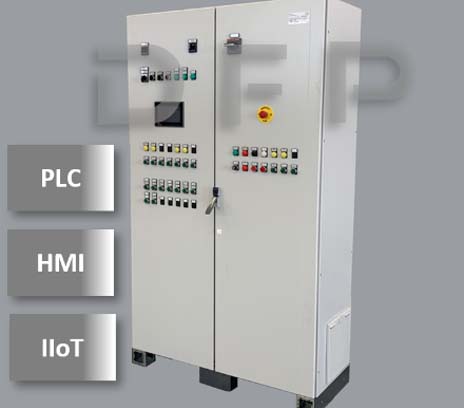 SMART Automation with IIoT
Dewater HP Filter Press uses advanced degree of automation with PLC complete with visual Human Machine Interface (HMI). This allows easy & efficient management of filter press. Additionally it increases operational safety & assists in diagnosis and troubleshooting of faults.  
With the IIoT capabilities, Filter Press remote access can be optionally added. Additionally with its compiled data analysis can assist preventive maintenance, optimise process efficiency & minimise expenses.